HSUHK Personal Finance Planning Competition 2023 Awards Presentation Ceremony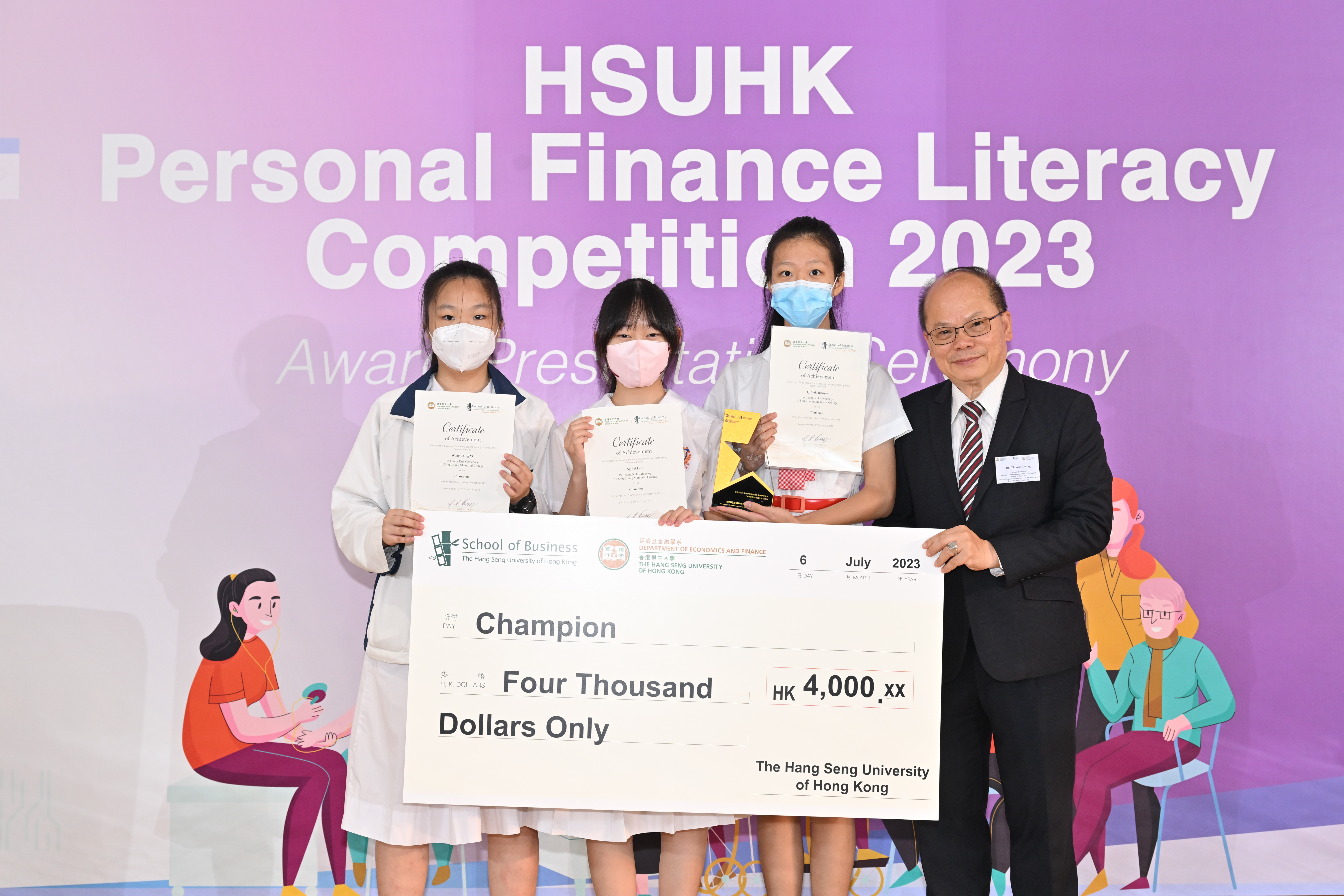 The School of Business and the Department of Economics and Finance of The Hang Seng University of Hong Kong (HSUHK) launched the Personal Finance Planning Competition ("Giving Advices to Seniors about Financial Scams and Money Matters by "Boomer Graphics") for Secondary Schools from March to May 2023. The awards presentation ceremony was held on 6 July 2023 (Thursday), 3 p.m. – 4 p.m. at Fung Yiu King Hall at the S H Ho Academic Building, HSUHK.
The entries of the 8 finalist teams were assessed by a panel of judges:
· Hons. Leung Hei, Legislative Councillor, HKSAR
· Mr Lee Tan Chun, Timmy MH, Vice Chairperson of the External Affairs Committee, The Board of Management of The Chinese Permanent Cemeteries
· Mr Peter Yau, Manager, Investor and Financial Education Council (IFEC)
· Dr Thomas Leung, Associate Dean of the School of Business, HSUHK
The winning teams were announced during the Ceremony for the following awards and prizes:
• Champion ($4,000 Cash) – Po Leung Kuk Centenary Li Shiu Chung Memorial College
• First Runner-up ($3,000 Cash) – True Light Girls' College
• Second Runner-up ($2,000 Cash) – Heung To Middle School (TSW)
• 3 Third Runner-up ($1,000 Cash) – SKH Tang Shiu Kin Secondary School; Kowloon Tong School (Secondary Section); GCCITKD Lau Pak Lok Secondary School
• 2 Merits prizes ($500 Cash each) – CCC Hoh Fuk Tong College; YLPMSAA Tang Siu Tong Secondary School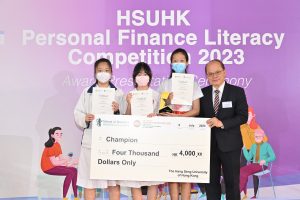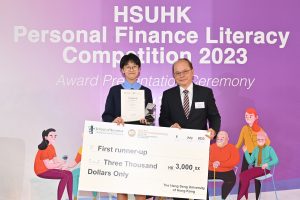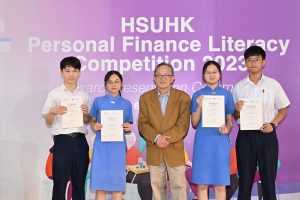 Dr Thomas Leung, Associate Dean of the School of Business, HSUHK, officiated at the award presentation ceremony. Teachers and students of the finalist teams were invited to attend the Ceremony.
This year, the theme of the HSUHK Personal Finance Planning Competition is: "Giving Advices to Seniors about Financial Scams and Money Matters". Participating teams from secondary schools are required to develop a series of "Boomer Graphics" for the elders to send around among their social circle via smartphones or social media to disseminating useful tips about financial matters and scams avoidance. The objective is to enlighten the young generation regarding their role in promoting financial literacy across generations.
Before the submission, a discussion forum on "Let's Give Advices to Seniors about Money Matters in the New Era" was held in March 2023, where guest speakers and experts shared about the recent trend of "tech-related" crimes in Hong Kong and the common financial issues that the seniors may have.
The series of activity aims to raise the awareness among young people of the potential financial traps that the seniors may face and how they could involve in promoting financial literacy and scams avoidance across generations.
Redirect URL:

event_date:

20230706

sign_up_url:

organised_by:

speaker:

com: