Personal Finance Planning Competition 2022 Awards Presentation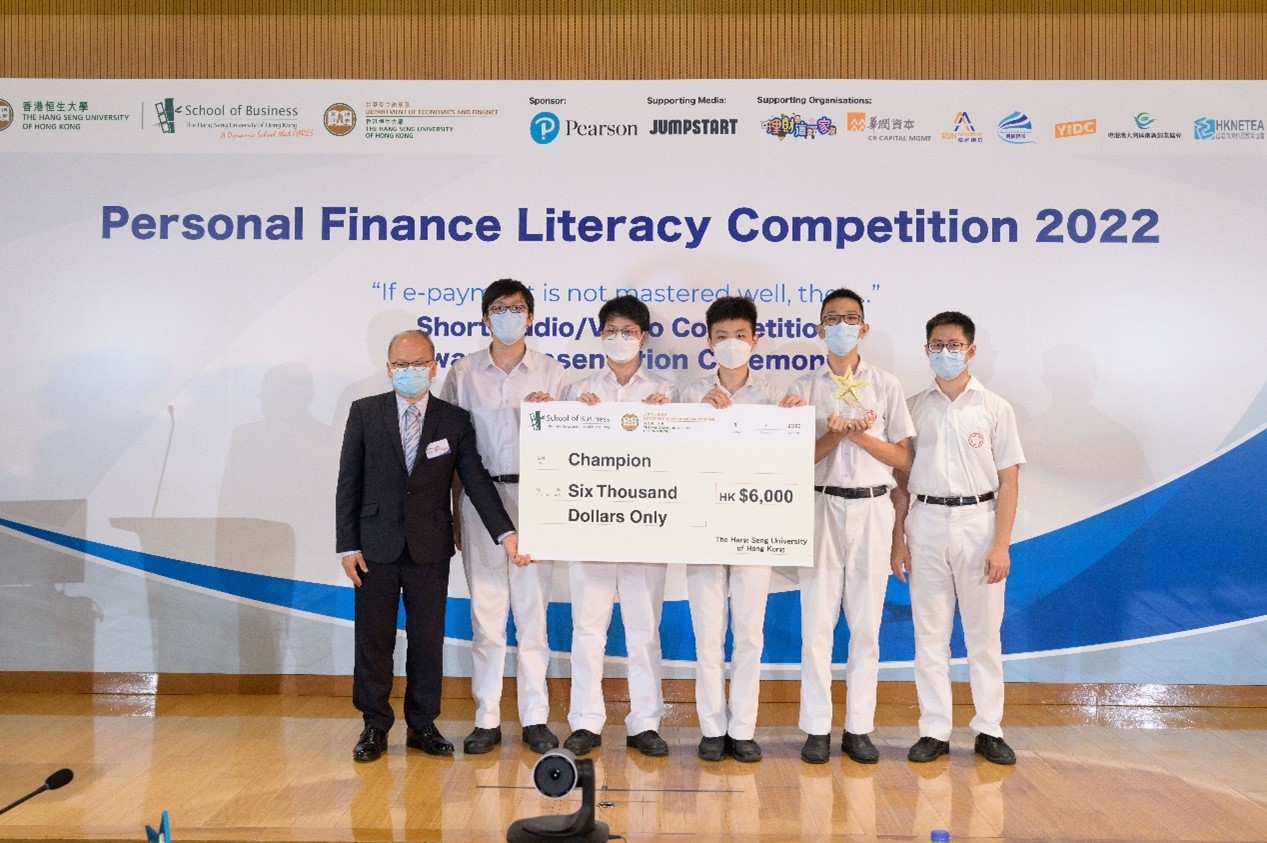 HSUHK Personal Finance Planning Competition 2022 Awards Presentation Ceremony
8 July 2022
The School of Business and the Department of Economics and Finance of The Hang Seng University of Hong Kong (HSUHK) launched the Personal Finance Planning Competition ("If e-payment is not mastered well, then…." Short Story Competition) for Secondary Schools from March to May 2022.  The awards presentation ceremony was held on 8 July 2022 (Friday), 3 p.m. – 4 p.m. at Fung Yiu King Hall at the S H Ho Academic Building, HSUHK.
A total of 14 entries submitted by the secondary schools were assessed by a panel of judges:
Philip CHENG – Executive Director – Investment, Runnvoation – Head of Ecosystem and Partnership
Miss Boanne CHEUNG – Influencer & Miss Hong Kong 2017
Ms Elaine SHIU, Hong Kong Outstanding Young Entrepreneur
Mr Peter YAU, Manager, Investor and Financial Education Council (IFEC)
The winning teams were announced during the Ceremony for the following awards and prizes:
Champion ($6,000 Cash) – Hong Kong Chinese Women's Club College
First Runner-up ($4,000 Cash) – Kiangsu-Chekiang College (Shatin)
Second Runner-up ($3,000 Cash) – Lock Tao Secondary School
3 Merits prizes ($1,000 Cash each) – St. Teresa Secondary School, Christian Alliance SW Chan Memorial College, and Heung To Middle School (TSW)
Dr Thomas Leung, Associate Dean of the School of Business, HSUHK, officiated at the award presentation ceremony. Teachers and students were invited to attend the Ceremony.
The theme of the HSUHK Personal Finance Planning Competition 2022 is: "Be an e-Payment System Master". Participating teams from secondary schools are required to develop a short audio/video story. The objective is to encourage secondary school students to investigate the possible consequences of not properly mastering e-payment processes or platform features and highlight the consequences and reasons behind. They should propose how to become an e-payment master as well.
Before the submission, a discussion forum on "Be a Smart e-Payment System User" was held where guest speakers and experts provided insights on the theme.
The series of activity aims to raise the awareness among young people of the potential financial traps during their secondary school and university life and learn about the importance of financial literacy and independence to be smart teenagers.
The representatives of the winning teams also shared their winning reflections:
Champion: Hong Kong Chinese Women's Club College
This competition is so exciting and amazing. It enables us to try to make a short video about online payment which is really fun. We had never taken a video together before. It was an unforgettable experience for us. We had spent much time on the video but it was worth it. We had done much research online and we had learnt much knowledge about online payment and finance.
We faced many difficulties in making the video. We had so many ideas we wanted to deliver through the video but there is a time limit of 5 mins which causes limitations in our design of the story. At first, we wanted to include two to three stories throughout the video. At last, we had chosen a story that can represent most teenagers, which is overspending on video games.  We hope we can deliver the message to teenagers that personal finance is very important and we should avoid overspending. Although nowadays most of the game spends a lot on making the quality and the cartoon etc in order to attract players to pay for it and the e-pay is convenient. Therefore, we won't feel that we are paying too much.
1st runner up: Kiangsu-Chekiang College (Shatin)
Participating in this competition was a memorable experience for us and we have learnt a lot from the participation.
For the script creation, we spent a lot of time thinking about the theme of the video. One of the themes that we had thought about was impulsive purchases. We spent a lot of time analysing the factors that cause impulsive purchases and learnt various ways to avoid so by reading research conducted by universities. This has improved our analytical skills.
We also made the full potential use of our creative skills on creating an interesting and funny storyline. This has enhanced our creativity.
Besides, we have learnt that we would easily fall into traps that look attractive but have no good to us, like making purchases impulsively.
From video production, we have learnt a lot about specialisation. Each of our group members focused on different tasks including video editing, subtitles, and recording. Given limited time, we did our best to meet the deadline. We have learnt how to manage our time efficiently.
2nd runner-up: Lock Tao Secondary School
Thank you Hang Seng University provided us with an opportunity to gain a more in-depth understanding of personal financial management through this competition, and we are grateful that we could achieve second runner-up.
We would like to thank Homing People for providing a location for the filming as well. Our filming would not have been possible without their assistance. During planning, we contemplate not only the film's interesting content but also our daily financial management challenges – like impulse spending and bandwagons.
Likewise, due to technological advancements, teenagers with an inadequate sense of personal financial management often oversee the traps behind the convenience of electronic payments', eventually becoming beyond their means. With this video, by stepping in the shoes of a university student, we hope to illustrate the importance of financial management to the public and encourage them to change unwise habits that will lead them to financial hardship.
Once again, thank you Hang Seng University and the adjudicating team for giving us the award. This has been a great encouragement to our team.
Photo of the winning team
Champion: Hong Kong Chinese Women's Club College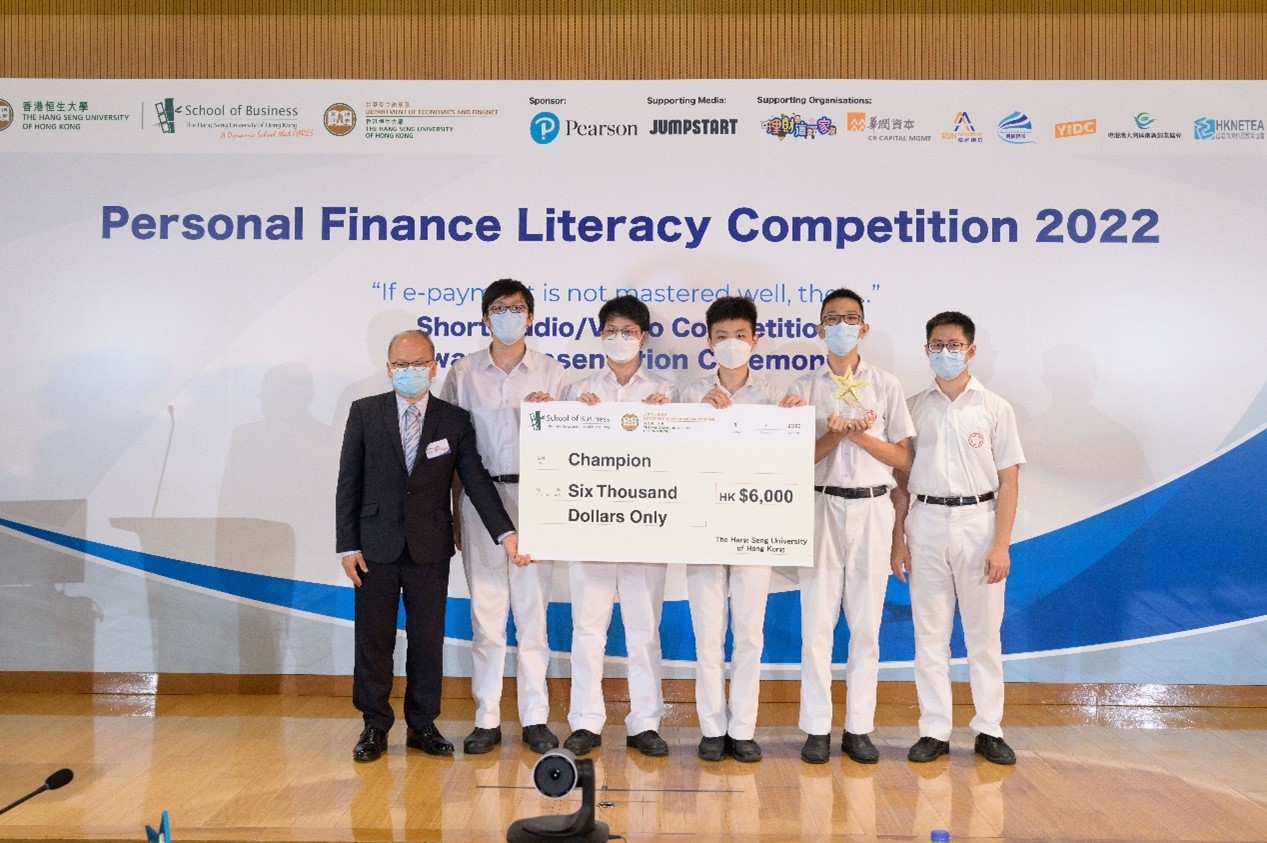 The winning team received awards from Dr Thomas Leung, Acting Dean of School Business, HSUHK.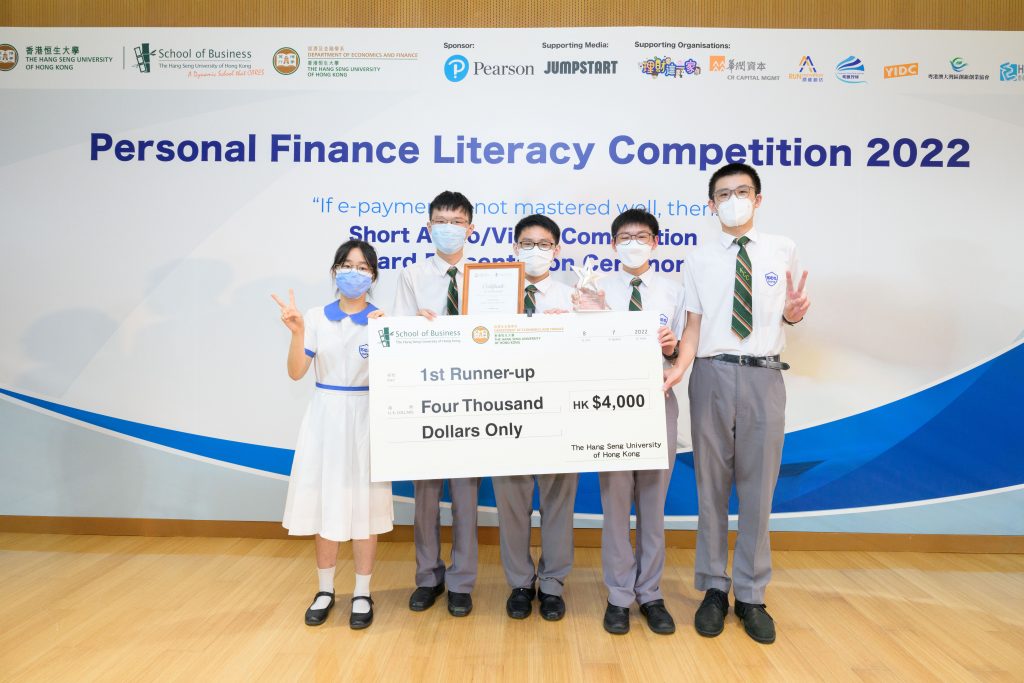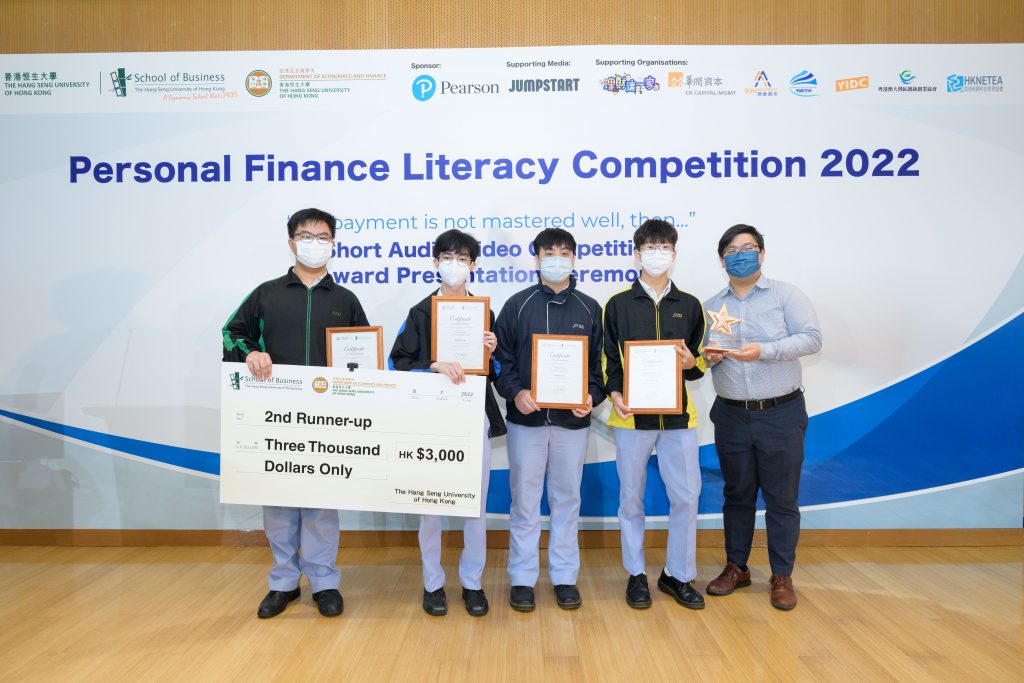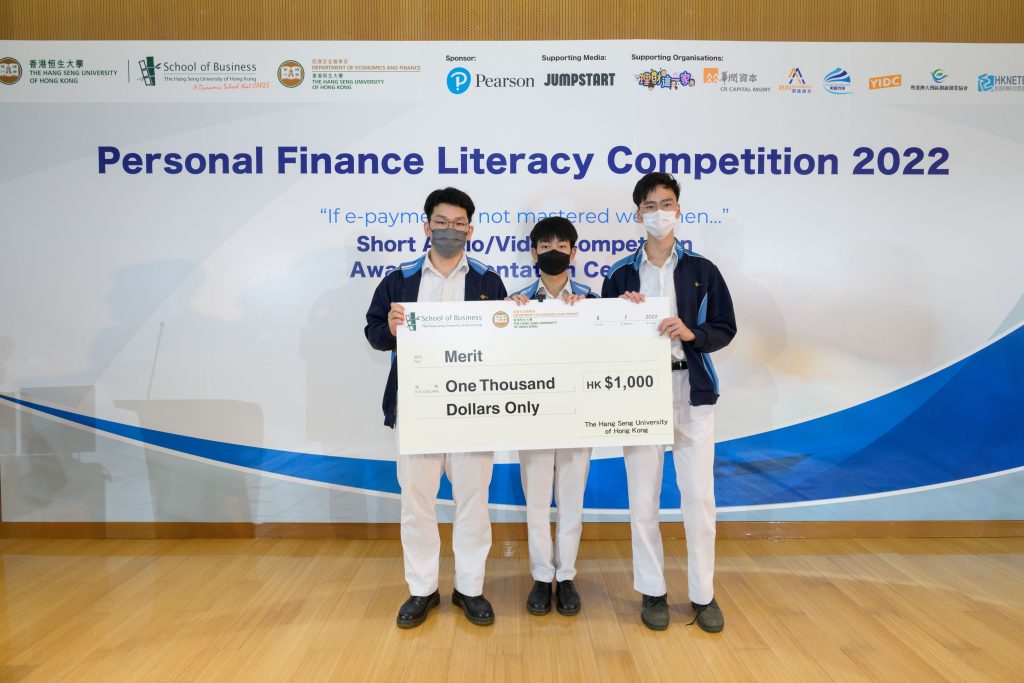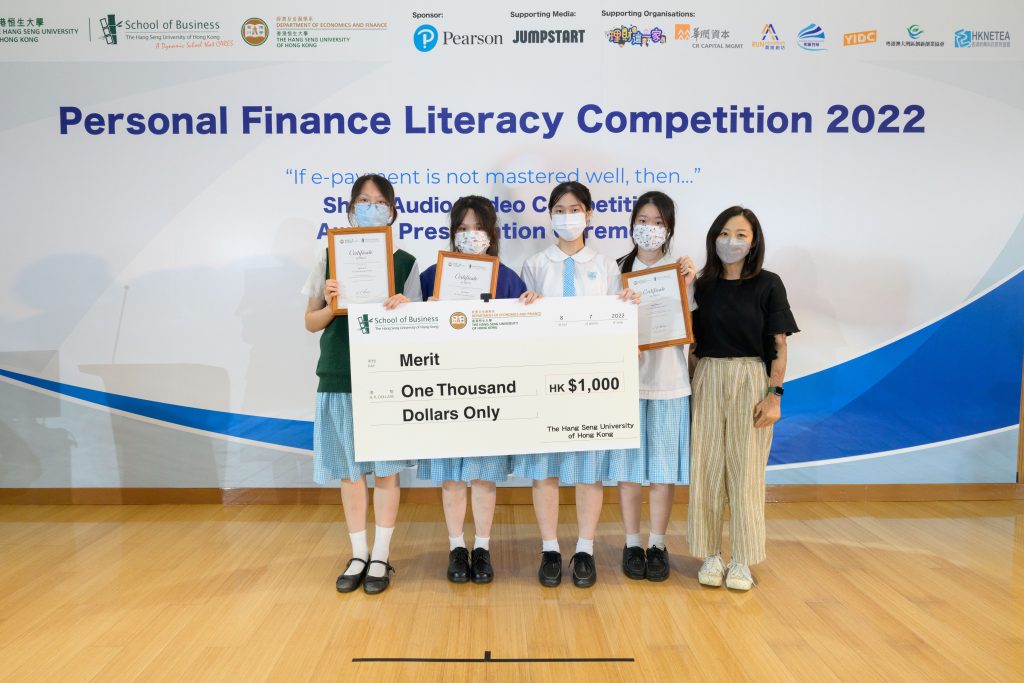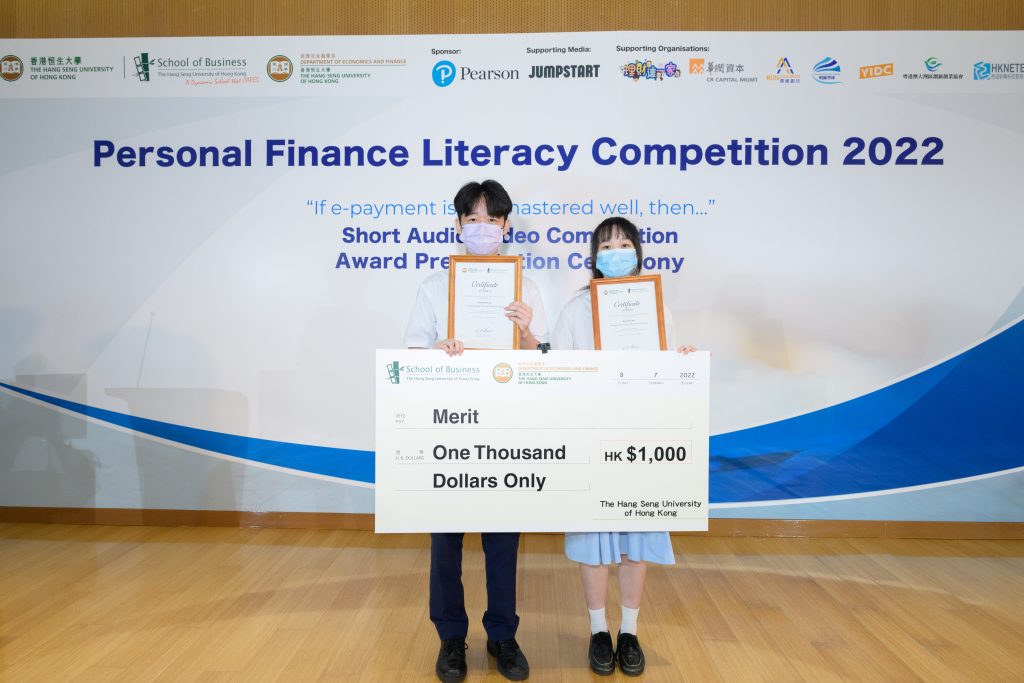 Group photo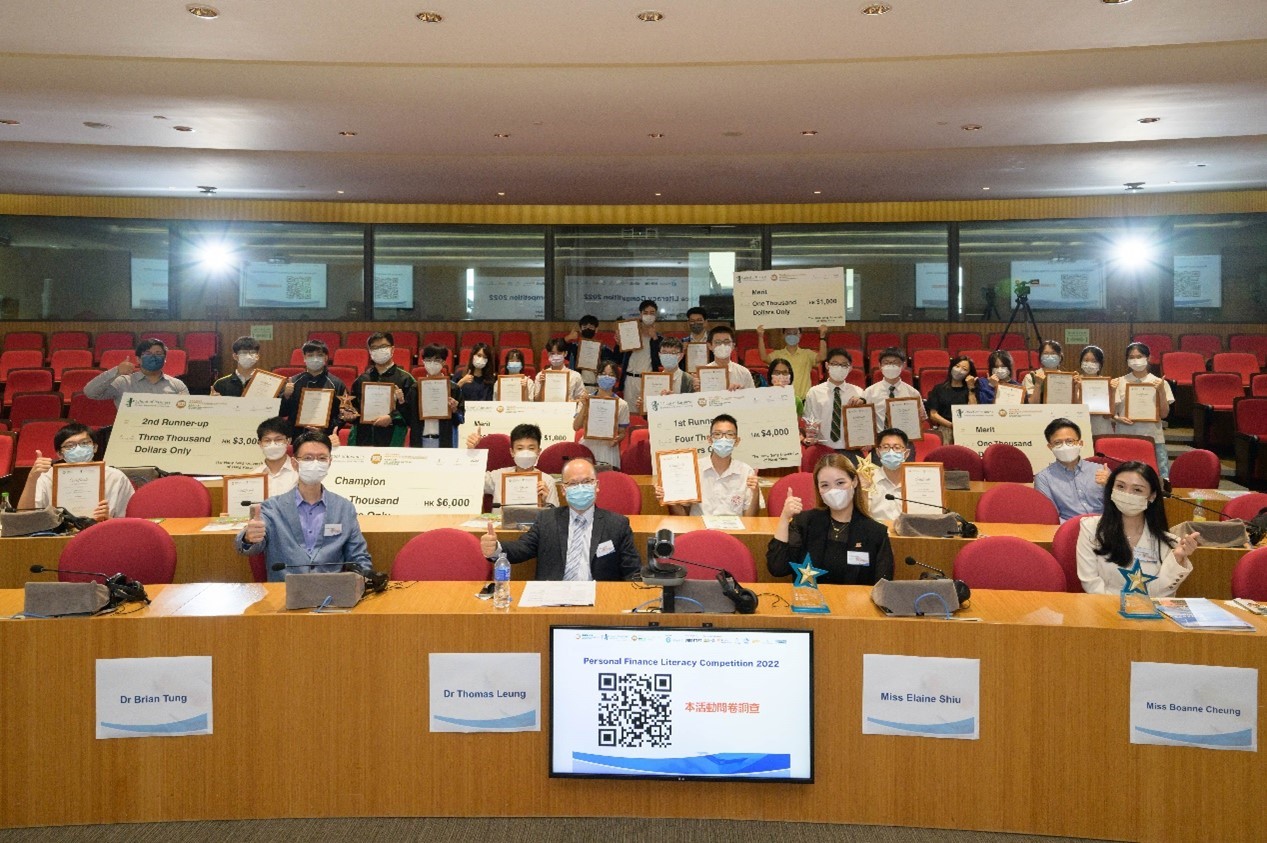 6 winning teams
Hong Kong Chinese Women's Club College, Kiangsu-Chekiang College (Shatin), St. Teresa Secondary School, Christian Alliance SW Chan Memorial College, and Heung To Middle School (Tin Shui Wai)
Front (from left to right)
Dr. Brian Tung,Dr. Thomas Leung , Ms Elaine Shiu, Ms. Boanne Cheng
Redirect URL:

event_date:

sign_up_url:

organised_by:

speaker:

com: