2021 AIB Asia Pacific Faculty Development Workshop Series
To celebrate the new Asia Pacific Chapter of the Academy of International Business (AIB) and to bring together members in the region during this challenging time, we will be holding our first Online Faculty Development Workshop Series via Zoom. The series features three renowned IB scholars as instructors, delivering three-hour workshops on global strategy and international marketing. All faculty members, especially junior faculty, doctoral students and early career researchers in the Asia Pacific chapter region should take advantage of this opportunity to learn from leading IB researchers and educators.
Who Should Participate?
Faculty and doctoral students in management, marketing, and related fields who wish to be exposed to cross-border research topics, data sources,
methodology, pedagogy, and cases will greatly benefit from these events.
The content and structure of these workshops has been adapted for scholars working in the Asia Pacific Region, however, assuming sufficient event capacity, any interested member of the IB community is welcome to participate.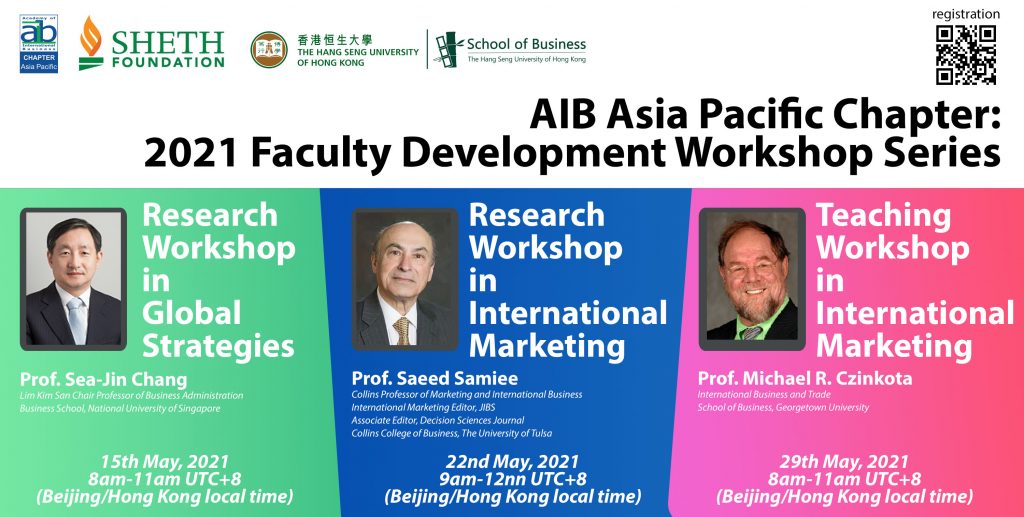 At the conclusion of this workshop series, participants will be awarded an official Certificate of Completion from AIB. Registrants should plan to participate in all three workshops in order to receive this certification.
Two top-performing participants will receive a USD1,000 prize (reimbursable toward attending the 2022 AIB conference in Miami, FL).
Event webpage: https://www.aib.world/event/aib-asia-pacific-faculty-development-workshop-series/
If you have enquires about the AIB membership, please send an email

to 

membership@aib.msu.edu
If you experience any issues with these materials or if you require any further details on this event, please contact the AIB Asia Pacific Secretariat at

wzhu@hsu.edu.hk

.