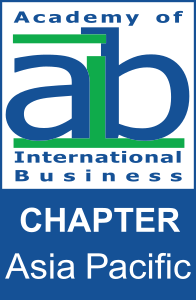 The Southeast Asia Chapter of the Academy of International Business (AIBSEAR) was established in 1984 as a regional Chapter of The Academy of International Business (AIB).
In 2020, we realize that there is a room for improvement in terms of strong and formal connection with other IB scholars outside the region. With such constraint, the Executive Board of AIBSEAR has agreed to the proposal to expand our chapter coverage to include other countries in the Asia Pacific region, including China, Japan, Korea, and Singapore; particularly because these countries already have their own respective Chapters. 
With AIBSEAR Chapter's past achievements and governance, we are confident to be the foundation for AIB's expansion in this wider region. To reflect our future development in the region, approved by AIB Board, AIBSEAR Chapter has been renamed the chapter to "AIB Asia Pacific Chapter" in 2021. 
A chapter is a distinct geographical component of the AIB membership working or residing in the multicountry area, country, provinces or states indicated by the name of the Chapter. The primary purpose of a Chapter is to provide AIB members of a particular geographic area with opportunities for the exchange of ideas, for the presentation of research, for professional contacts, and for discussion of matters of mutual interest and concern at times and places convenient to members of the chapter.
AIB has several chapters established around the world. You can see a complete list of chapters or upcoming chapter meetings.