MGT@HSU 2019 MICRO-MOVIE "AFTERWARDS"
This micro-movie is produced and shot in The Hang Seng University of Hong Kong (HSUHK), starred by the students from the Department of Management. Any resemblance to actual events or persons is entirely coincidental.
MGT@HSU 2016 MICRO-MOVIE "FOUR YEARS"
This micro-movie is produced and shot in The Hang Seng University of Hong Kong (HSUHK), directed and starred by the students of HSUHK. Any resemblance to actual events or persons is entirely coincidental.
THE BEST ADVERTISING VIDEO AWARD 2018
Two BBA-MGT Year 4 students Lydia Chan  and Vicki Tsang  (as well as other two teammates) won the Gold Award Winner and the Best Advertising Video Award in the Joint University Outstanding Marketing Award (JUOMA) 2017-2018, outperforming a total of 388 teams of rivals from universities and colleges in Hong Kong.
For more details, please click here.
Programme Information‌
The Bachelor of Business Administration (Honours) in Management (BBA-MGT) pledges to provide a state-of-the-art study programme in management. BBA-MGT provides students with plenty of opportunities to learn and experience business and management skills through formal training and student activities. The well-rounded curriculum enables them to become a well-rounded person and sharpens their competitive advantages in the rapidly changing work environment. BBA-MGT requires students to take minimal yet essential core modules, while they can choose a variety of elective modules from different disciplines. As such, they may explore general business areas or focus on narrow business niches, according to their own interests and career aspirations.
The BBA-MGT Programme is internationally recognised and accredited by the Chartered Professional in Human Resources Canada (CPHR Canada) and granted exemptions from the CPHR National Knowledge Examination in Canada.

Group Photo of BBA-MGT Year One Students on Orientation Day
Programme Objectives
The Programme objectives are:
develop students' creativity, critical thinking, analytical ability, and problem-solving skills
cultivate students' communication, interpersonal, leadership, independent learning, and other transferable skills
nurture students with a sense of social responsibility and a strong commitment to business ethics
enhance students' global awareness and local sensitivity
equip students with an in-depth understanding of management concepts, strategies, and skills
enable students to apply management theories and methodologies to the real-life business operations

Programme Intended Learning Outcomes
Upon completion of the Programme, student should be able to:
address professional and personal challenges through the application of inter-disciplinary and multi-disciplinary knowledge acquired
possess effective communication ability in a business environment, work as a team player to integrate effectively the skills and knowledge developed, and be able to manage independent lifelong learning
evaluate own contributions and responsibilities in becoming responsible employees, business leaders, and business partners
possess broad horizons and be inquisitive about various global issues and developments such as politics, cultures, social sciences, and technologies
understand and apply managerial and behavioural concepts and strategies in managing people
develop and strengthen managerial skills such as leadership, teamwork and interpersonal skills at work
understand and manage the changes and transformations in organizational operations within rapidly changing international and domestic environments
Minimum Admission Requirement:
Form 6 graduates with Level 3 or above in Chinese Language and English Language, Level 2 or above in Mathematics, Liberal Studies and one other subject in the Hong Kong Diploma of Secondary Education Examination (HKDSE).
The requirements for HKALE, IB, mature students, advanced standing and other non-local qualifications are comparable to other recognized post-secondary institutions and universities in Hong Kong.
Programme Pamphlet: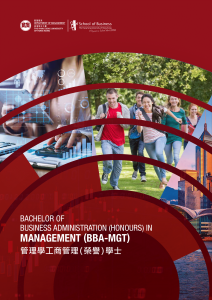 Bachelor of Business Administration (Honours) in Management is recognized under the Qualifications Framework (QF).
QF Level: 5 | QR Registration No.: 18/000844/L5 | Registration Validity Period: 08/11/2018 to 31/08/2026
Area of Study (QR)
| | |
| --- | --- |
| Primary Area of Study and Training: | A03 Business and Management |
| Sub-area (Primary Area of Study and Training): | A0305 General Business Management |
Enquiries
Email: mgt@hsu.edu.hk
motopress-ce-save-in-version:

2.0.3