MGT@HSU 2019 MICRO-MOVIE "AFTERWARDS"
This micro-movie is produced and shot in The Hang Seng University of Hong Kong (HSUHK), starred by the students from the Department of Management. Any resemblance to actual events or persons is entirely coincidental.
MGT@HSU 2016 MICRO-MOVIE "FOUR YEARS"
This micro-movie is produced and shot in The Hang Seng University of Hong Kong (HSUHK), directed and starred by the students of HSUHK. Any resemblance to actual events or persons is entirely coincidental.
THE BEST ADVERTISING VIDEO AWARD 2018
Two BBA-MGT Year 4 students Lydia Chan  and Vicki Tsang  (as well as other two teammates) won the Gold Award Winner and the Best Advertising Video Award in the Joint University Outstanding Marketing Award (JUOMA) 2017-2018, outperforming a total of 388 teams of rivals from universities and colleges in Hong Kong.
For more details, please click here.
Programme Information‌
Fully utilizing the advantages of private universities (such as state-of-the-art curriculum design, close-knit relationships, and dedicated professors, etc.), BBA-HRM becomes a competitive undergraduate programme in Hong Kong.
The BBA-HRM programme aims at nurturing professionals and talents in human resource management (HRM) by equipping students with cutting edge theories and practices in HRM, so that they can cope with the challenges and capitalise on the opportunities in the rapidly changing business environment.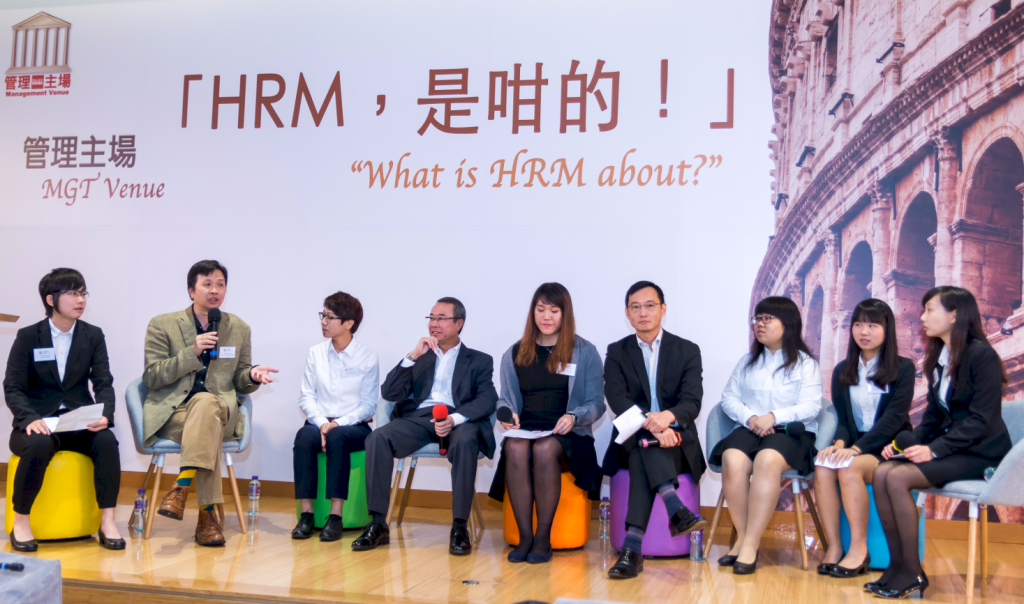 Hong Kong Institute of Human Resource Management (HKIHRM) President David Li (fourth from left) and Vice President Lawrence Hung (fourth from right) were invited to be keynote speakers in a discussion forum in HRM.
Programme Objectives
The programme objectives are:
develop students' creativity, critical thinking, analytical ability and problem-solving skills
cultivate students' communication, interpersonal, leadership, independent learning and other transferable skills
instil in students a strong sense of social responsibility and high commitment to business ethics
enhance students' global awareness and local sensitivity
equip students with cutting edge theories and knowledge of business and in particular human resource management
furnish students with advanced skills and techniques to become business practitioners and, more specifically, human resource management professionals
nurture students to manage people via adopting a liberal arts spirit, and enhance their capability of applying ethical principles within organizations and businesses

Programme Intended Learning Outcomes
Upon completion of the programme, students should be able to
address professional and personal challenges through the application of inter-disciplinary and multi- disciplinary knowledge acquired
possess effective communication ability in a business environment, work as a team player to integrate effectively the skills and knowledge developed, and be able to manage independent lifelong learning
evaluate own contributions and responsibilities in becoming responsible employees, business leaders and business partners
possess broad horizons and be inquisitive about various global issues and developments such as politics, cultures, social sciences and technologies
possess strategic mentality to capitalise on opportunities and cope with challenges in the business world, and acquire the competence needed to solve human resource problems
become knowledgeable business practitioners and HRM professionals specialised in such HR functions as recruitment and selection, training and development, and compensation and performance management
acknowledge the human side of management and apply a more humanitarian approach in managing and interacting with people in the utilitarian business contexts
Minimum Admission Requirement:
Form 6 graduates with Level 3 or above in Chinese Language and English Language, Level 2 or above in Mathematics, Liberal Studies and one other subject in the Hong Kong Diploma of Secondary Education Examination (HKDSE).
The requirements for HKALE, IB, mature students, advanced standing and other non-local qualifications are comparable to other recognized post-secondary institutions and universities in Hong Kong.
Programme Pamphlet: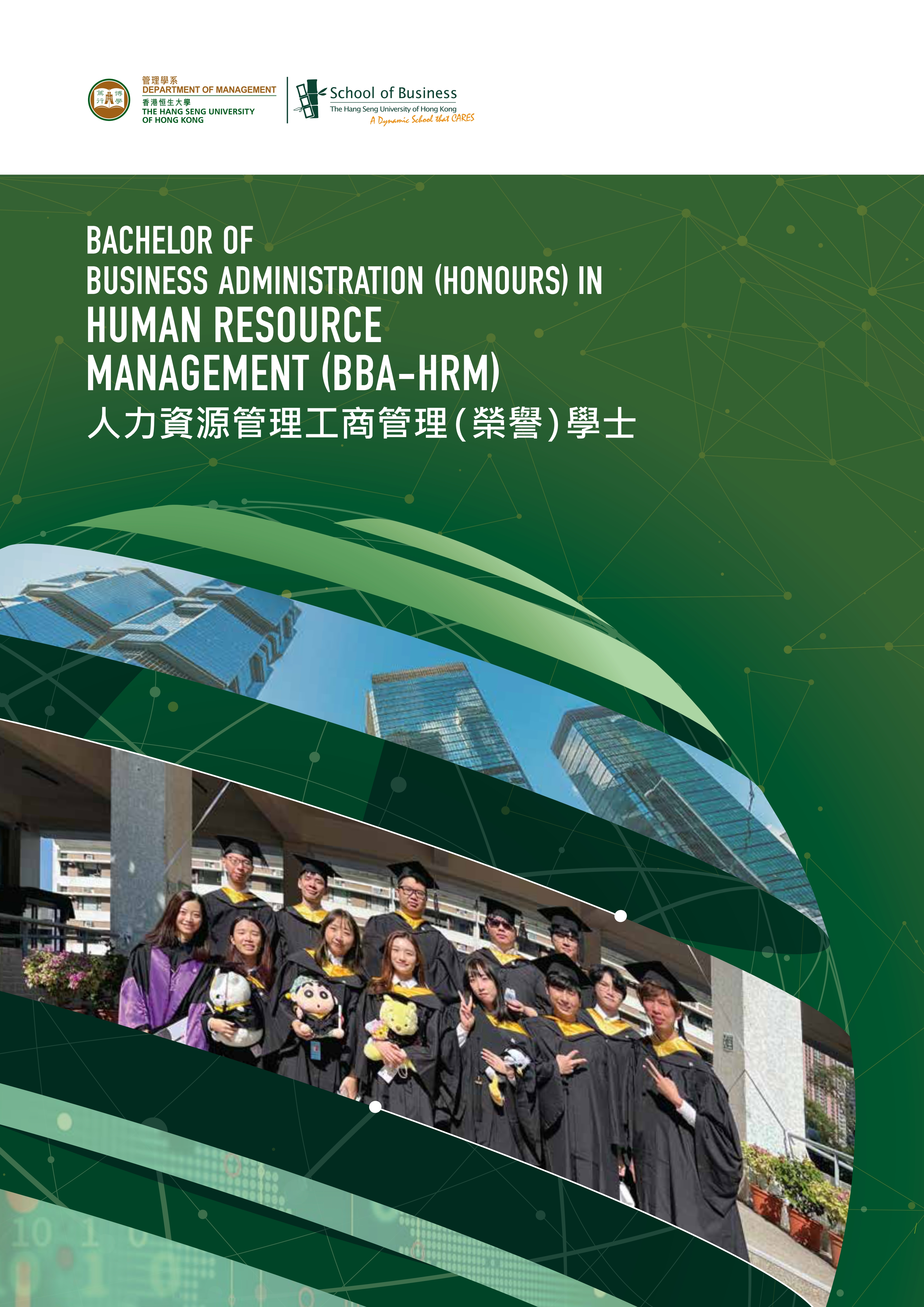 Bachelor of Business Administration (Honours) in Human Resource Management is recognized under the Qualifications Framework (QF).
QF Level: 5 | QR Registration No.: 18/000843/L5 | Registration Validity Period: 08/11/2018 to 31/08/2026
Area of Study (QR)
| | |
| --- | --- |
| Primary Area of Study and Training: | A03 Business and Management |
| Sub-area (Primary Area of Study and Training): | A0305 General Business Management |
Enquiries
Email: mgt@hsu.edu.hk
motopress-ce-save-in-version:

2.0.3