Programme Information
The Global Business Management (GBM) programme aims to develop and foster students' knowledge, skills and abilities for jobs in multinational corporations (MNCs) or global business organizations. Through a stimulating curriculum with practical overseas exposure and experiences, students can build the desired global leader attributes such as business insights, analytical mind, and international experience.
Overseas Exchange Study: HSUHK partners with more than 60 prestigious institutions worldwide for GBM students to conduct overseas exchange study
Advisory System: The programme offers timely academic and professional advice on curriculum attainment and career preparation for students.
Interdisciplinary Curriculum: Students will study GBM core and elective courses from a multitude of disciplines such as Management, Finance, Marketing, Data Science, Political Economy, Cultural Studies and International Relations.

GBM@HSU 2021 VIDEO

Programme Objectives
The programme aims to
Develop students' creativity, critical thinking, analytical ability and problem-solving skills.
Cultivate students' communication, interpersonal, leadership, independent learning and other transferable skills.
Instill in students a strong sense of social responsibility and high commitment to business ethics.
Enhance students' global awareness and local sensitivity.
Equip students with cutting edge theories and concepts in global business management.
Develop students' critical and reflective understanding of business and its relationship in the wider global business environment.

Programme Intended Learning Outcomes
Upon completion of the programme, students should be able to
Address professional and personal challenges through application of the inter-disciplinary and multi-disciplinary knowledge acquired.
Possess effective communication ability in a business environment, work as a team player to integrate effectively the skills and knowledge acquired, and be able to manage independent lifelong learning.
Evaluate own contributions and responsibilities in becoming responsible employees, business leaders and business partners.
Possess broad horizons and be inquisitive about various global issues and developments such as politics, cultures, social sciences and technologies.
Experience different cultures in an international context.
Analyse and solve problems in a global business context

Minimum Admission Requirement:
Form 6 graduates with Level 3 or above in Chinese Language and English Language, Level 2 or above in Mathematics, Liberal Studies and one other subject in the Hong Kong Diploma of Secondary Education (HKDSE) Examination .
The requirements for HKALE, IB, mature students, advanced standing and other non-local qualifications are comparable to other recognized post-secondary institutions and universities in Hong Kong.

Programme Pamphlet: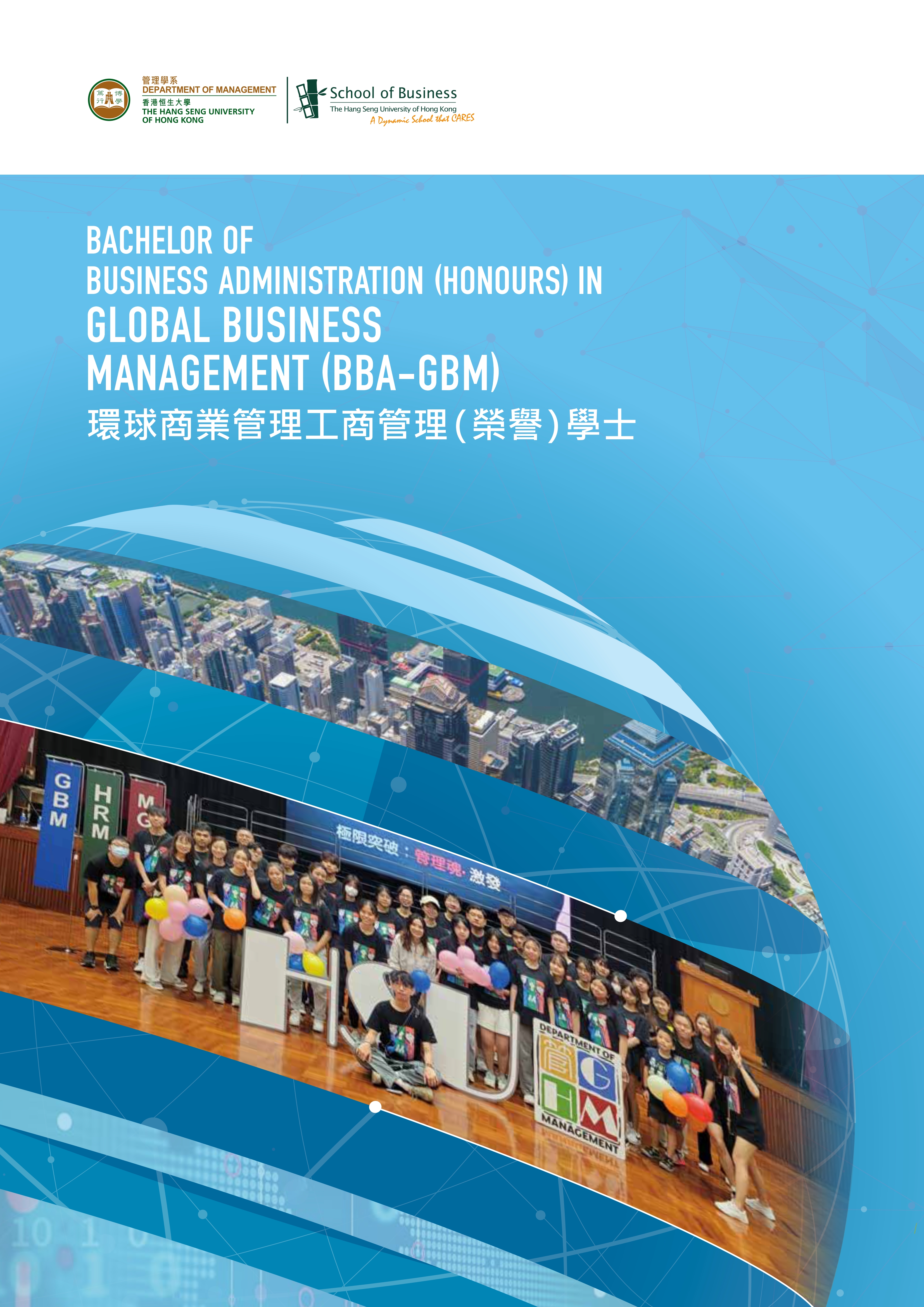 Bachelor of Business Administration (Honours) in Global Business Management is recognized under the Qualifications Framework (QF).
QF Level: 5 | QR Registration No.: 19/000679/L5 | Registration Validity Period: 01/09/2019 to 31/08/2026
Area of Study (QR)
| | |
| --- | --- |
| Primary Area of Study and Training: | A03 Business and Management |
| Sub-area (Primary Area of Study and Training): | A0305 General Business Management |
Enquiries
Email: mgt@hsu.edu.hk
motopress-ce-save-in-version:

2.0.3