The programme is designed for students who desire to be well-versed in more than one business discipline. It integrates a broad spectrum of disciplines rather than focusing on a single field of study. The all-round knowledge and skills thus developed offer students a unique advantage in today's complex and dynamic business environment. Under the guidance of academic advisors, students could flexibly choose study paths suited to their interests and aspirations.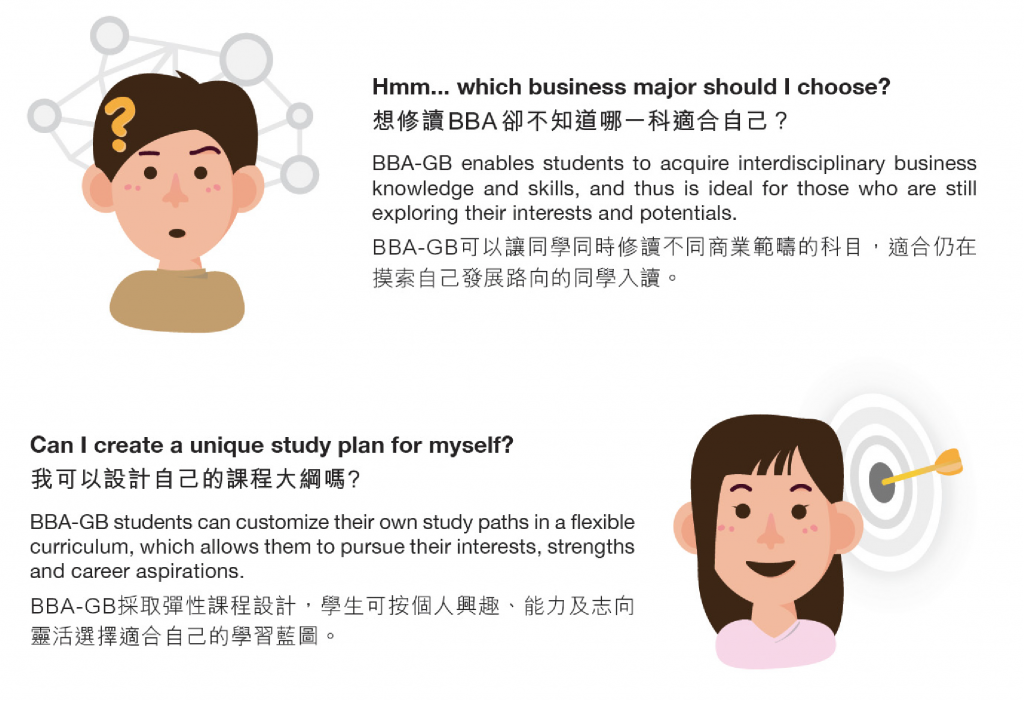 Programme Intended Learning Outcomes 
Upon completion of the Programme, students should be able to:
address professional and personal challenges through the application of inter-disciplinary and multi-disciplinary knowledge acquired;
possess effective communication ability in a business environment, work as team players to integrate effectively the skills and knowledge developed, and manage independent lifelong learning;
evaluate own contributions and responsibilities in becoming responsible employees, business leaders and business partners
possess broad horizons and be inquisitive about various global issues and developments such as politics, cultures, social sciences and technologies
have a solid foundation of knowledge in business at the early stages of study on which to build further studies
develop, deepen, and integrate their knowledge of business at the late stages of study and to put the knowledge into practice
Click HERE to view programme pamphlet.
Bachelor of Business Administration (Honours) in General Business is recognized under the Qualifications Framework (QF).
QF Level: 5 | QR Registration No.: 20/000379/L5 | Registration Validity Period: 01/09/2020 to 31/08/2026
Area of Study (QR)
| | |
| --- | --- |
| Primary Area of Study and Training: | A03 Business and Management |
| Sub-area (Primary Area of Study and Training): | A0305 General Business Management   |

Enquiry
Email:  mkt@hsu.edu.hk
motopress-ce-save-in-version:

2.0.3