Announcing the 11th HSUHK Junzi Corporation Award and Hong Kong Business Ethics Index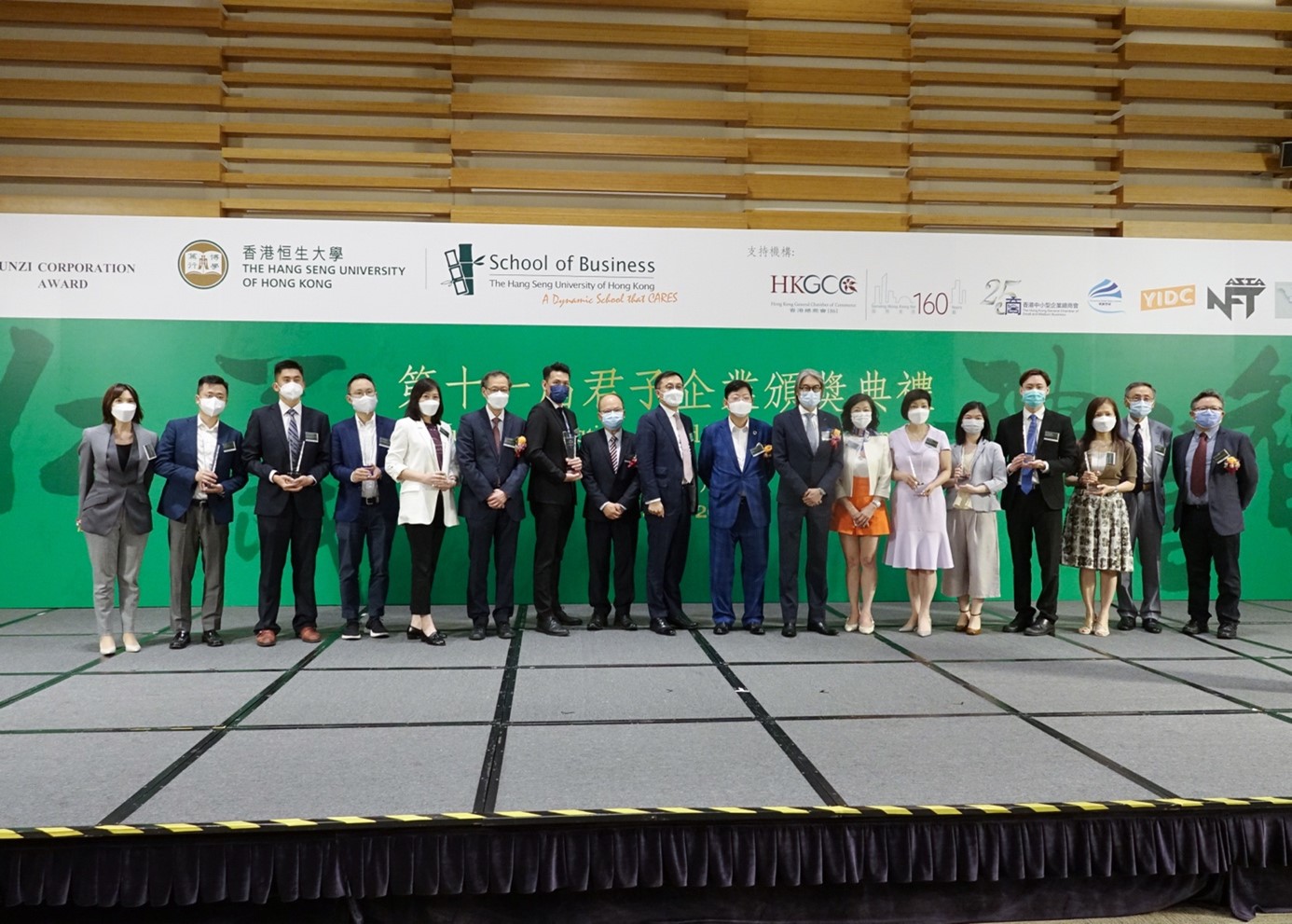 The Hang Seng University of Hong Kong (HSUHK) introduced the concept of "Junzi" character in Chinese Confucianism in 2011 whereby an annual Junzi Corporation Survey (the Survey) is conducted to measure the overall level of business ethics in Hong Kong. The Junzi Corporation Award is conferred to felicitate Junzi corporations that meet high ethical standards with the five Junzi virtues of "Ren (benevolence)", "Yi (righteousness)", "Li (propriety)", "Zhi (wisdom)", "Xin (trustworthiness)".
To celebrate the 11th anniversary, this year's Junzi Corporation Award Ceremony was hosted by the School of Business, HSUHK on 28 June 2022.
Professor Simon Ho, President of HSUHK, delivered a welcome speech. Dr Thomas Man, Associate Dean (Enterprise and Business Engagement) announced the Junzi Index. Professor Robin S Snell then introduced the five Junzi virtues and its implementation in business contexts.  After President Ho and Provost and Vice-President (Academic and Research), Professor YV Hui presented Junzi Corporation Exemplary Award and Corporation Award, Mr Calvin Chau, President of The Hong Kong General Chamber of Small and Medium Business, gave a speech and conferred the Corporation Awards (Small and Medium Enterprises) to the Awardees.
HSUHK aims to create and promote new knowledge as its teaching goals. It is committed to cultivating global leaders with discerning thinking, innovation, humanistic care, moral values and social responsibility.  At the same time, HSUHK has been upholding its spirit of actively promoting business ethics and fostering a conducive and sustainable business environment.  Since 2011, faculty members and students of HSUHK have made tremendous efforts to compile the Business Ethics Index by undertaking rigorous academic research that reflects the Five Junzi Virtues.
The HSUHK Business Ethics Index reflects the public's comprehensive evaluation of the ethical level of the business community.  The results of this year's survey show that the Index recorded an increase to 63.7 (out of 100) after a sharp rebound in 2021.  It reflects that the overall level of business ethics in Hong Kong perceived by Hong Kong citizens has increased during the Pandemic.
Professor Simon Ho pointed out, "The concept of five Junzi virtues is, in fact, more comprehensive and beyond the Western business ethics. Not only enterprises should avoid wrong doings, they need to promote good deeds."  HSUHK hopes that, through the Junzi Corporation Award, it will honour enterprises with a Junzi demeanour.  At the same time, the survey provides a useful yardstick with great reference value for the public.
In addition to the Award Presentation, the School of Business took this opportunity to host a Business Leaders Forum on "How Should Hong Kong Businesses Thrive amid Pandemics?"  The Forum was hosted by Professor Jeanne Fu, Head of the Department of Management, HSUHK, with the guest Mr Cheng Chi Wai Ellis, Chief Financial Officer, Kerry Logistics Network Limited who shared with us practical examples on data security and staff welfare that leaped long term reward. He also emphasized that enterprises must continuously innovate amid and post pandemic to suit the dynamic business environment globally.
Looking forward, HSUHK and the School of Business will continue to promote business ethics and work hand in hand with enterprises and the society in fostering a dynamic, sustainable business environment.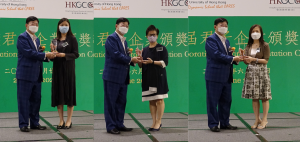 Awardees of Junzi Corporation Exemplary Award and President Prof Simon Ho
Left – The Hong Kong and China Gas Company Limited (Towngas) – Ms Judy Chan
Middle – Hang Seng Bank Limited – Ms May Wong
Right – Japan Home Centre (Hong Kong) Limited – Ms Kathryn Ho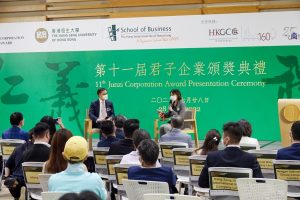 Guest, Mr Cheng Chi Wai Ellis, Chief Financial Officer, Kerry Logistics Network Limited shared his view on "How Should Hong Kong Business Thrive amid Pandemics?" in the Business Leaders Forum with Prof Jeanne Fu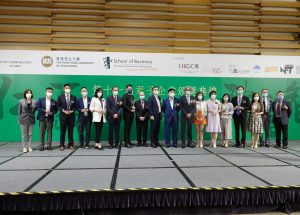 Awardees and guests
Redirect URL:

event_date:

20220628

sign_up_url:

organised_by:

speaker:

com: