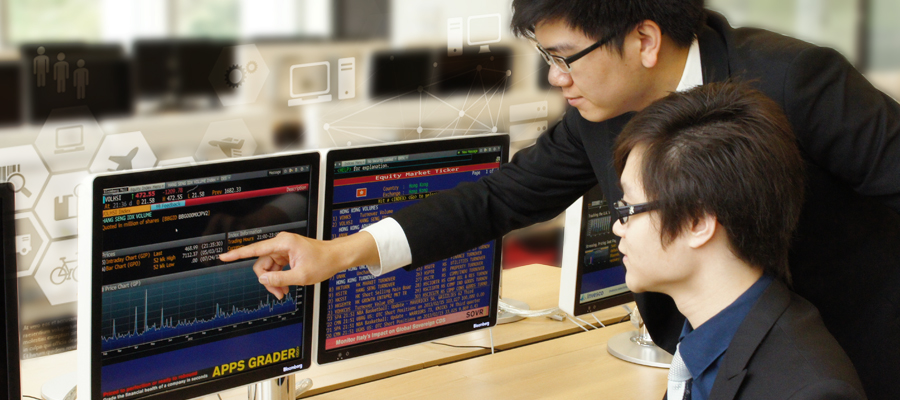 The Bachelor of Business Administration (Honours) in Financial Analysis Programme aims to provide a four-year university education to equip students with core financial analytical skills to become an effective investment professional. The Programme is built on the foundation of the 'Financial Analyst' role, and closely follows the core competency of the recognised professional standard known as the Chartered Financial Analyst Program Candidate Body of Knowledge™.
Financial analysis is the process of evaluating businesses, projects, budgets and other finance-related entities to determine their suitability for investment. It generally relates to a broad area of appraisal in finance on any economic systems. The BBA in Financial Analysis Programme is predominately investment focused. This will enable them to seek employment in the financial services industry, take professional qualification examinations and have the option to pursue further higher level degrees.
The beauty of this programme is that the BBA aspect is more of a generalist designation while students also have specialisation in the financial analysis topics as in the Chartered Financial Analyst curriculum. The programme is not only suitable for those who have a keen interest in the finance and investment industry and want to develop a career being an analyst, but also suitable for students who want to use the skills developed from the programme for general business management.
Programme Objectives
Upon completion of the programme, students are expected:
To have practical knowledge and authentic skills necessary in the global investment profession
To attain financial analytical ability to evaluate alternatives rationally for the purpose of making informed decision
To appreciate the interface between financial analysis and other areas in economics, management, investments, financial markets, international finance, financial services and corporate strategy
To possess a body of specialised knowledge and skill-set that enable them to seek challenging careers in the era of economic liberalisation and globalisation;
Bachelor of Business Administration (Honours) in Financial Analysis is recognized under the Qualifications Framework (QF).
QF Level: 5 | QR Registration No.: 18/000842/L5 | Registration Validity Period: 08/11/2018 to 31/08/2021
Area of Study (QR)
| | |
| --- | --- |
| Primary Area of Study and Training: | A03 Business and Management |
| Sub-area (Primary Area of Study and Training): | A0301 Accounting, Finance and Investment |
Enquiries
Email: eaf@hsu.edu.hk
motopress-ce-save-in-version:

2.0.3