Student Activities and Achievements
The Department of Marketing provides continuous support and guidance for BBA-MKT students to engage in extra-curricular activities, especially those that expose them to challenging and rewarding experiences. The Department also provides student-specific academic advice on further study options. The following highlight the major engagements and achievements of BBA-MKT students.
Academic Achievement
David Poon was awarded the 2016/17 President's Scholarship at the HSUHK Founders' Day Reception (March 16, 2017). Each year, this prestigious scholarship is awarded to one final year HSUHK student with outstanding performance in College service, community service, leadership, sports, arts and culture, involvement in regional or international competitions, demonstration of personal development, as well as excellent graduation CGPA.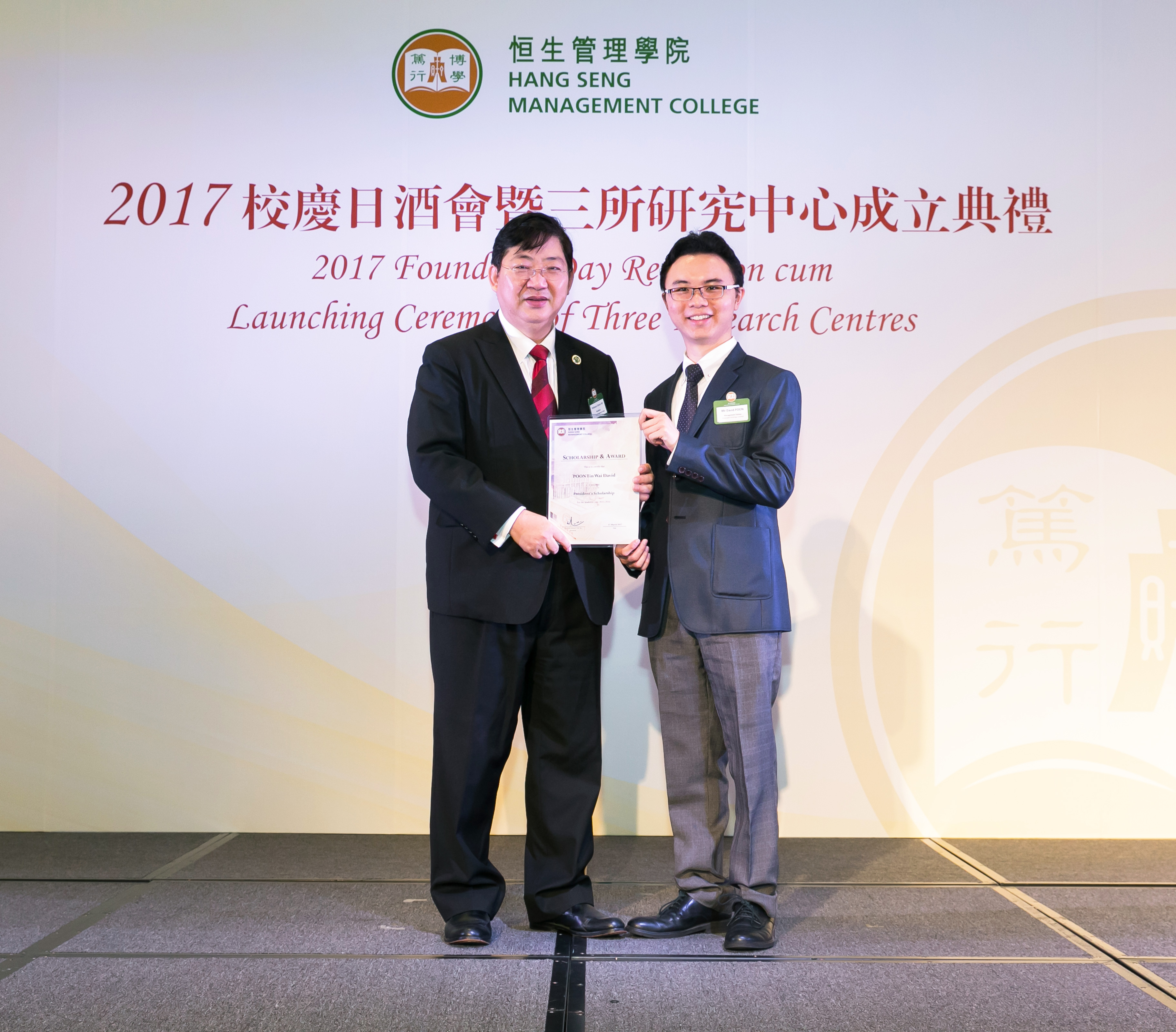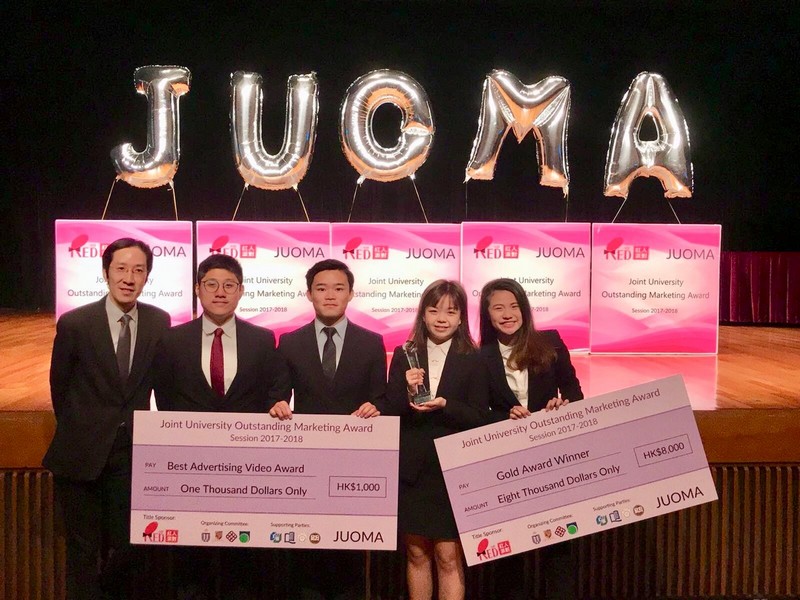 Business Competition
Chan Pak Hang Micky (BBA-MKT Year 4 ) and his team won the Gold Award and the Best Advertising Video Award of the 2017-18 Joint University Outstanding Marketing Award (JUOMA). JUOMA is the biggest, and arguably the most prestigious marketing competition for students in Hong Kong. 
Chan Pak Hang Micky (middle) with his teammates and mentor Dr Felix Tang (left) at the JUOMA presentation ceremony

Business Entrepreneurship
A BBA-MKT student, Elaine Shiu, successfully started her own coral jewelry business with the vision to become Asia's leading natural coral wholesaler. Her company, Shanhu Ltd., was selected by Mediazone as one of The Most Valuable Companies in Hong Kong in 2016 and 2017.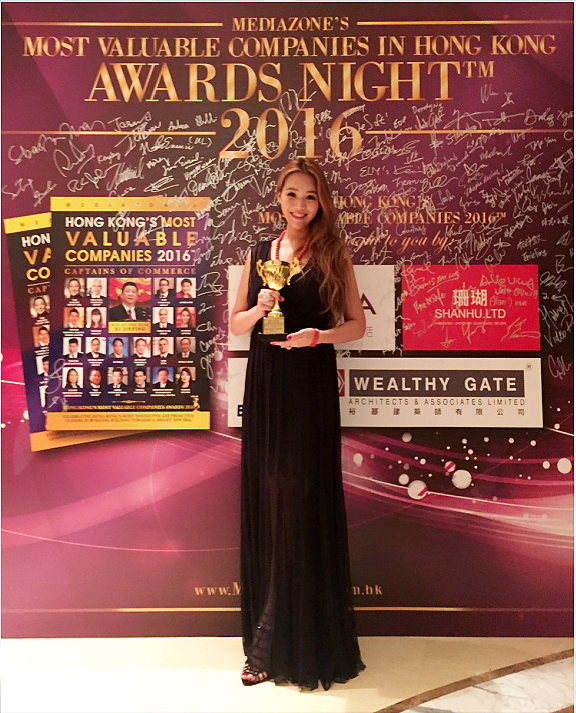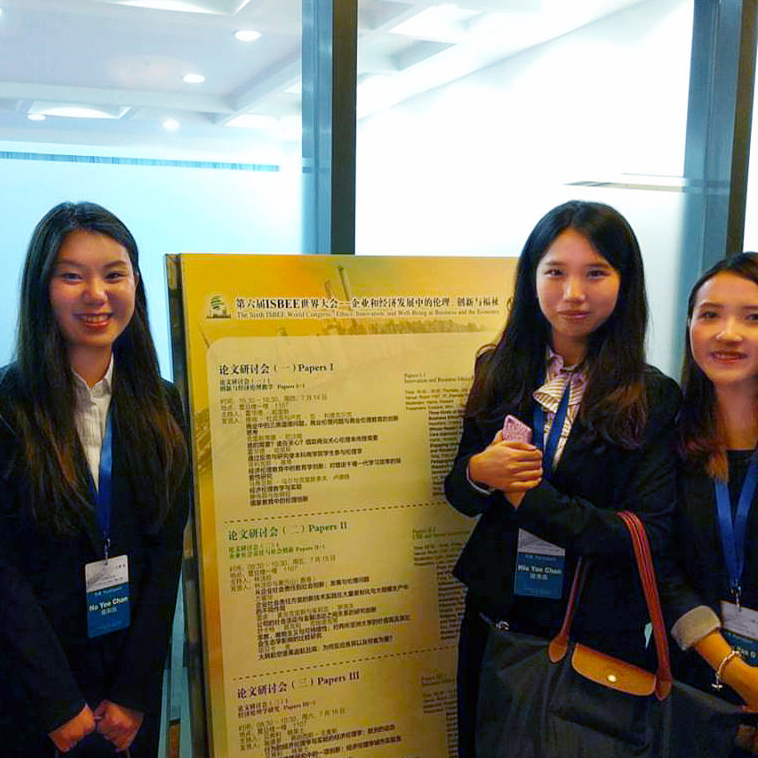 Conference Presentation
With the guidance of their mentor, Dr Felix Tang, three BBA-MKT students, namely, Yandy Chan, Holly Chan and Chantelle O, presented a research paper on business ethics at the 2016 ISBEE World Congress (13-16 July) in Shanghai.

Professional Networking
A BBA-MKT student, Dickson Ng, attended the signature conference organized by Harvard Business School Association of Hong Kong on 30 January, 2016. The student learned about new developments in Hong Kong and Mainland China, and interacted with members of Harvard Business School and local leaders such as Mr John Tsang, Financial Secretary of HKSAR and Dr Allan Zeman, Chairman of the Lan Kai Fong Group.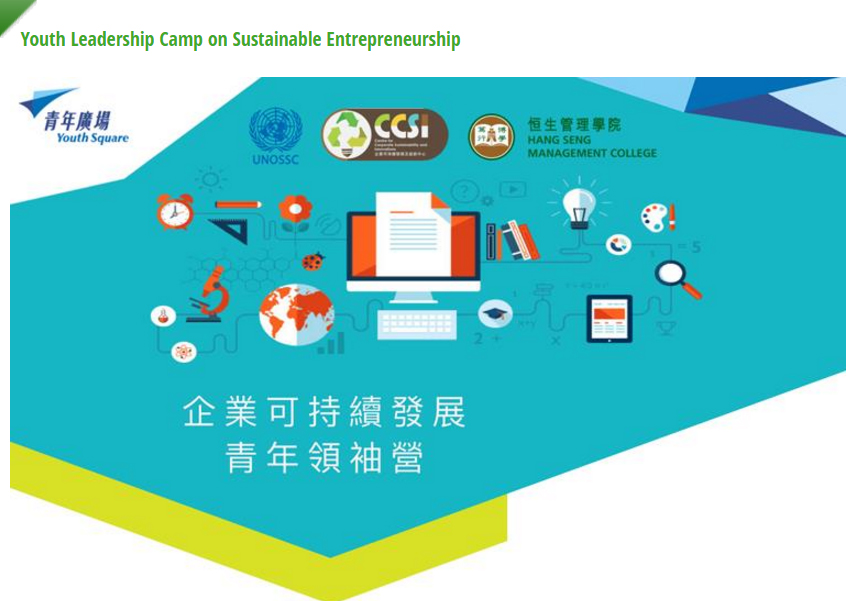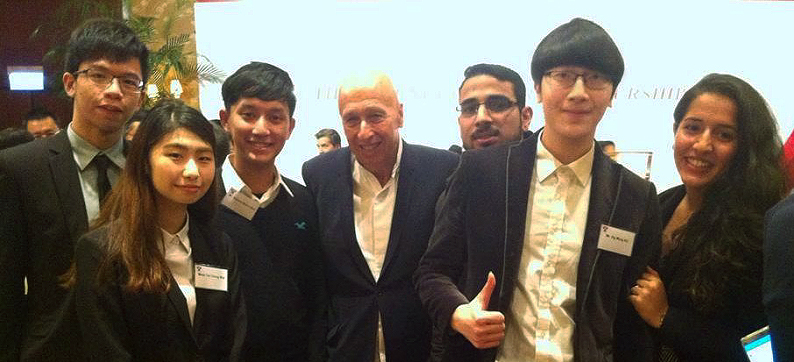 2016 Sustainability Youth Leadership Camp
A BBA-MKT student, Yao Hiu Ting, has been selected to participate in the 2016 Sustainability Youth Leadership Camp — an international activity enabling local youths to exchange ideas with overseas students on sustainability and entrepreneurship related issues. The Camp is a regional initiative supported by the Center for Corporate Sustainability and Innovation of HSUHK and the Youth Square of Hong Kong.
Postgraduate Studies
With guidance and support from their teachers, several BBA-MKT graduates have been admitted into master's programmes offered by major local and overseas universities. The following table shows the diverse interests and pursuits of the BBA-MKT graduates.
The Chinese University of Hong Kong –Master of Social Science in Global Political Economy
City University of Hong Kong –Master of Science in Marketing
The University of Hong Kong –Master of Social Sciences in Criminology
University of Warwick – Master of Science in Marketing & Strategy
University of Lancaster – Master of Science in Finance
University of Leeds – Master of Arts in Corporate Communications, Marketing and Public Relations
University of Leeds –  Master of Science in Consumer Analytics and Marketing Strategy
University of Bath –  Master of Science in Marketing
University of Bristol – Master of Science in International Relations
motopress-ce-save-in-version:

2.0.3